John Lennon e Yoko Ono
John and Yoko's passionate and inspiring love for each other is often shadowed by the idea that Yoko Ono broke up the Beatles. While the media spent most of their time questioning them and accusing her of killing the world's greatest band, they failed to see the powerful message of love and peace that Lennon and Ono were trying to share with the world. She may not have been the Twiggy-type but Ono was Lennon's greatest muse. Lennon and Ono's passion and love inspired many things even John's most famous song, Imagine. It's said that it was Ono's book The Grapefruit, which contained the words "imagine" that inspired John to write what is considered his greatest musical contribution. Lennon and Ono were happy and very much in love. Their love inspired many generations to come and in a time when being free was in fashion their passion for a better world brought us what could be considered Lennon's most popular and touching song, Imagine.
Christopher e Dana Reeves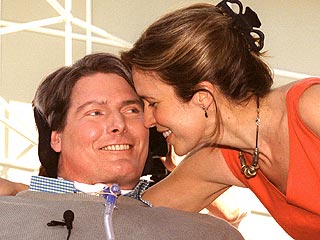 A true testament to one's commitment to love and honor even through sickness and in health, the love story of Christopher and Dana Reeves teaches us that love endures it all even through life's most tragic and challenging circumstances. Paralyzed from an equestrian accident in 1995, our beloved Superman, contemplated suicide but it was the love of his wife that kept him alive. In an interview he quoted her saying, "I'll be with you for the long haul, no matter what. You're still you. And I love you." During his tragedy Dana never abandoned his side and together they founded The Christopher Reed Foundation, which is dedicated to curing spinal cord injury. After Reeve's death in 2004, Dana was at the helm of his foundation but this amazing and brave woman later endured her most challenging battle when she was diagnosed with lung cancer in 2005. On March 2006, just 11 days shy from her 45th birthday, Dana Reeve loses her battle to cancer. Christopher and Dana Reeves teach us that love endures it all and it is through the immeasurable power of love that we find the strength to keep giving and living love.
Our greatest love story of all time, Romeo and J
uliet, teaches us the beauty and depth of young love and just how much some lovers will sacrifice for the sake of their love. Romeo and
Juliet
is the synonym for love. It was love at first sight for both Romeo
Montague
and Juliet
Capulet
. Two young lovers from opposing families fall madly in love. As told in many plays and movies, we all know how their love tragically ends. Going against her family's wishes to marry another man, Juliet, already secretly married to Romeo, takes a poison intended to put her in a death-like comma in hopes of reuniting with her beloved Romeo at the Capulet crypt. But Romeo unaware of this lays there in the Capulet crypt crying over the body of his beloved Juliet. Thinking she's dead, Romeo decides that he can't take another breath without Juliet by his side and drinks a poison that leaves his life-less body resting on top of Juliet. Juliet awakens to find her lover dead and unable to even think of life without Romeo she takes his poison and ends her life. There in the damp Capulet crypt laid the life-less bodies of two young lovers who chose death over a life without each other.
William Shakespeare
penned the most tragic love story to ever be written and for generations beyond our sight, it will always capture tender sympathies because it will always play on the universal theme of love, hate, sacrifice, violence, and power. Even today, we still have our Romeos and Juliets, star-crossed lovers fighting prejudice and rebelling against the world all in the name of love.